Saludos a todos,
Con esta nueva version tenemos una herramienta para ayudar a la comunidad y quiero aportarles como se hace y las distintas cosas que se pueden hacer.
La herramienta de Reportar Mala Conducta.
Primero Le damos un click al nombre del usuario a reportar para ver el perfil. luego buscamos el diablito.
Ejemplo de Diablito.
Una ves le hayamos dado click al diablito nos saldra un meno con lo siguiente.
Ejemplo de Menu.
Que significa este Menu.
Chat Abuse = Abuso del Chat o mala conducta.
Cheating = Engañar o usar trucos no apropiados para el juego
Inappropriate Avatar = Uso no apropiado del avatar. Ej Tiene avatar porno etc.
Inappropriate Username = Uso no apropriado de cuenta de usuario Ej. Malapalabra en el nombre de usuario o impersonalizar a un moderador o admin
Inappropriate Team Avatar = Uno no apropiado del avatar de su equipo.
Scamming = Engañar, Robar, ETC.
Veamos lo que nos da el Chat Abuse.
Ejemplo de Chat Abuse.
Bashing Religion/Ethnic = Ataques al tipo de religion o etnica
Defaming Admin/Moderator = Difamar Administrador o Moderador o Aspirante a Moderador.
Ilegal Drug Reference = Hacer referencia a drogas ilegales
Posting Links to Inappropriate Sites = Escribir en el Chat o foros link a otros sitios web que no son apropiados o el contenido es ilegal.
Racial Harrasment = Acoso Racial
Sexual Harrasment = Acoso Sexual
Spamming = Hacer multples referencias a algo no apropiado o fuera del tema de manera indevida
Treatening other player with harm or death = Amenazar a otro jugador con hacerle daño o matarlo.
Ahora veamos la seccion de Cheating
Ejemplo del Menu de Cheating.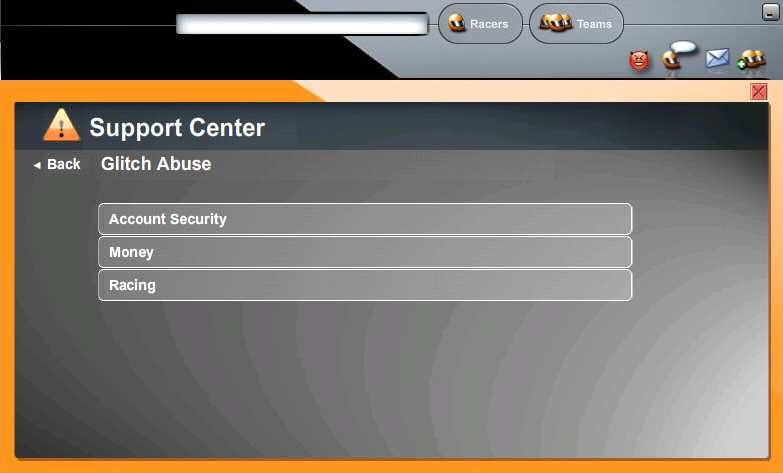 Account Security = Seguridad relacionada a su cuenta de usuario
Money = Dinero del Juego
Racing = Carreras del Juego
Cada uno tiene un subtema que no are referencia ya que se explican solo.
Menu de Inappropiate Avatar
Aqui solo ponen el usuario. Ojo el usuario utilizado en este ejemplo no tiene nada que ver con el usua de la herramienta.
Una ves puesto le dan Summit
Menu de Inappropiate Username:
Menu de Inappropiate Team Avatar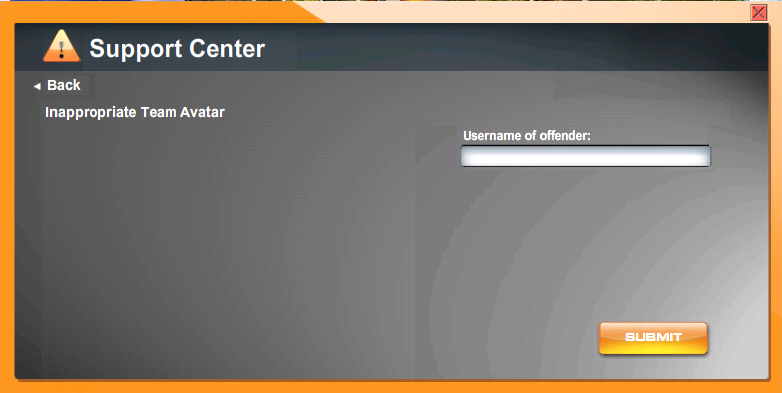 Solo colocan el nombre del team y listo
Menu de la seccion de Scamming:
Asking Players for their login information = Preguntarle a otros usuarios por su cuenta de usuario y contraseña
Impersonating Game Staff = Ursurpar a un miembro del staff
Posting links to hacked version of 1320 legends = Hacer referencias a nivel web de version pirata de 1320 legends
Posting links to phishing sites = Hacer referencias de paginas web ilegales o que intentan obtener tu informacion de usuario
Sending Emails that pretend to be from the System or Staff = Enviar correos electronicos pretendiendo ser un miembro del staff o del sistema
Continua en el Post #2
Saludos,
Blade 6
"Tu Reto, Mi Pasion" Derechos Reservados